Fr. Greg Faulhaber, Moderator of Family #7 and Priest in Solidum
Fr. Greg is a Lancaster native, he was ordained as a priest in 1979 and his first assignment was at St. Barnabas Parish in Depew. He next served at St. Amelia in Tonawanda, and then directed the Newman Center at SUNY Buffalo, South Campus. In 1990, he moved to Belgium to study at the Catholic University of Louvain, where he earned both a licentiate degree and doctorate in moral theology. Upon his return to the Diocese of Buffalo, he was assigned to Christ the King Seminary, East Aurora, where he has served as vice rector, director of seminary formation and professor of moral theology. Fr. Greg was appointed Pastor at Queen of Heaven Church in 2015.

Fr. Walter Grabowski, Priest in Solidum
Fr. Walter is a native of Poland, he came to the United States in 1983 after being ordained in Poland and studying for a year in England. Fr. Walter has served at Assumption Parish in Buffalo, Queen of Martyrs in Cheektowaga, Immaculate Conception in Eden, Holy Spirit Parish in North Collins and St. Gabriel's in Elma.

Fr. John Stanton, Parochial Vicar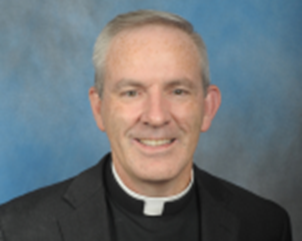 Fr. John, a native of West Seneca, was ordained to the priesthood by Bishop Richard J. Malone on June 1, 2013. Previously Fr. Stanton was an attorney and an accountant. He has served at Our Lady of Victory and St. John XXIII.

Fr. Mark Itua, Parochial Vicar
Fr. Mark was born and raised in Nigeria. He attended SS. Peter and Paul Major Seminary in Ibadan, Nigeria, deciding to become a priest after he attended high school. He had initially planned to become a doctor. However, during his final year of high school, he decided that being a doctor was not his calling. In August of 2012, Fr. Itua moved to the United States. He served as a priest in Brooklyn before moving to Buffalo. Father Mark Itua has served in Queen of Martyrs in Cheektowaga, Christ Our Hope Parish in French Creek and Sherman and St. John Vianney Parish in Orchard Park.

Fr. Ryan Keating, Parochial Vicar
Fr. Ryan, a Buffalo native, was ordained in 2021. Before he became a priest, Fr. Ryan was a teacher. He has served in St. Mary Parish in Swormville and Queen of Heaven.


We would like to welcome these priests to our family. We are blessed to have such a diverse team of priests to serve us. Please keep them in your prayers. They have an enormous task ahead of them as they work to make sure the needs of all of the parishioners of Family #7 are met.
Please have patience also. We all have a lot of questions, so do our priests. Please know that decisions will not be made in a hasty manner; rather with prayer and forethought, taking into consideration the various needs of the five parishes in our family.